We are so happy to share that we can begin opening our offices! We have spent the last couple of weeks retraining and implementing all the new regulations. We are extremely proud of our team for creating the safest environment for you and your family.
Below are some of the changes you may notice at your next appointment.  We made these changes to help protect you and our team, and to comply with the interim guidelines from the NYS Health Department. These rules must be followed and are not a "suggestion", so we ask that you please comply with them and our team as we navigate them.
We follow the infection control recommendations of the Centers for Disease Control and Prevention (CDC), the American Dental Association (ADA) and the Occupational Safety and Health Administration (OSHA). Please note that as they continue to change their guidelines, we will need to modify our procedures accordingly.
Please make sure we have an updated cell phone and email on file.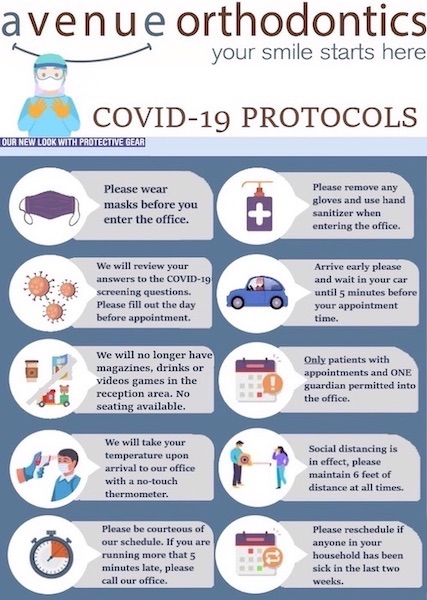 The day before your appointment, we will text you some screening questions that need to be filled and signed to confirm your appointment. These questions should be completed 24 hours before your appointment time and they will be reviewed when you come into the office.
Please plan on arriving at least 5-10 minutes prior to your appointment time. There is no need to call or text message us if you are walking in on time or 5 minutes early. There will be no reception area so if you are more than 10 minutes early, call us and we will likely ask you to wait in your vehicle until your chair is ready. If you are more than 5 minutes late to your appointment, please call or text us as we will most likely need to reschedule your appointment. IF you are early or late (as noted above) please do not come into the office without communicating with us. We do not have seating in the reception area.
Per CDC rules, we are only able to see patients for their appointment and require all family members to stay home or wait in the car. If the patient is a minor, then only ONE parent or guardian can come in with them. Please note that parents/guardians will be asked the same screening questions, have a temperature check, and must always have a face covering.
We will have a Wellness Booth set up at the front where a Wellness Coordinator will ask you to use hand sanitizer, take your temperature and confirm you have filled out the screening questions. If you have gloves on, we will ask you to discard them, and new disposable gloves will be provided to you
All high touch surfaces will be regularly cleaned and disinfected but please note there will be no reception area seating, games, drinks, magazines, or any shared areas for now.
The toothbrushing station is now strictly a hand washing station only. We ask that all our patients please brush their teeth before coming to the office.
Your next appointment will be made by our clinical team in the back so you can walk right out of the office when your adjustment is done. For any billing or insurance questions please call before your appointment.
The Doctors and clinical team will be adding faceshields to our usual PPE protocols. Administrators will be wearing masks and, in some cases, faceshields as well.
If you have a confirmed case of COVID-19, are suspected to have COVID-19 or may have come in contact with a confirmed or suspected COVID-19 case, we cannot see you until you are symptom free for 14 days. PLEASE even if you are unsure, have cold or flu-like symptoms contact our office to reschedule your appointment. We will guarantee to have an appointment ready for you after your 14 days of being symptom free. It is safer for our patients, our team, and community to defer your appointment by a few weeks when there is even the slightest potential for COVID-19 transmission.
Although we plan on extending our practice hours and open more days, it will take time to make up for nearly three months of missed appointments. This is especially difficult with social distancing and other measures we are implementing that will limit the number of patients we can see. We ask for your continued patience and trust that we are doing everything we can to safely accommodate all our patients. We will prioritize patients with "active" appliances and loose, poking, or broken brackets, buttons, retainers, and wires so we may not initially have an ideal time to see you.
We are so excited and thrilled to see you again. We are privileged to treat you and your families and will continue to do everything we can to deliver the exceptional care you have come to expect from us. Please call our Whitestone (718-767-8400) or Roslyn (516-484-0234) office to schedule your next appointment. We have also changed our number for text messaging and ask that you only call or email for now.
Sincerely,
Drs. Grauer, Eleni, Abraham, and our Team